Did you know ? UCLy is home to 136 different nationalities ! Our university's constant commitment to welcoming international students from all over the world has been rewarded with two stars of the official « Bienvenue en France » label.
This label is awarded for a duration of 5 years by an independent commission of the Campus France agency, supervised by the French Ministry of Foreign Affairs and the Ministry of Higher Education and Research. This label guarantees the quality of the reception for international students, thanks to the effots of every member of our academic community. In 2019, UCLy was the first catholic university to receive the label, and this second star demonstrats our commitment to improving quality of life for international students.
Since the creation of the label in 2018, 150 universities have received this certification. Between them, they host two-thirds of the international students studying in France. For many students, studying abroad is a great adventure ; for universities it's a source of cultural diversity and new ideas. But, navigating life in another country can be a challenge, and a source of anxiety when faced with travel problems or administrative issues. This label exists to guarantee to our international students a national standard in welcome and support, so they can make the best of their studies in France.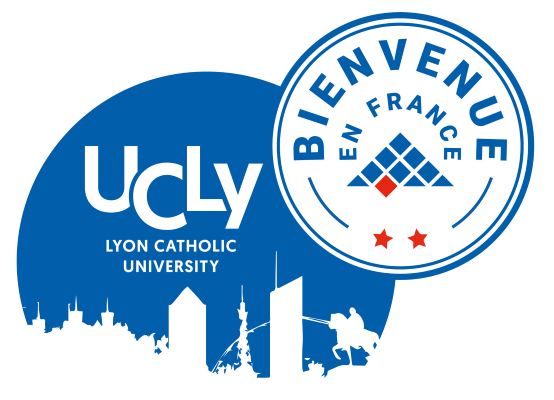 The International Student Desk, the first resource for UCLy's international students
The International Student Desk is at the heart of the help provided by UCLy to international students, working with every academic entity in Lyon and Annecy. With this service, international students have access to a single point of contact for assistance. In 2022-2023, ISD worked with 345 students, particularly to provide administrative assistance (residence permits, health coverage, bank accounts, etc.)
The ISD is also connected with UCLy's Accomodation Office helping student with finding the best housing options (halls of residence, host families, shared rentals...) to find the ideal living environment for the duration of their studies.


The 5 key criteria of the label


Before delivering the « Bienvenue en France » label, Campus France evaluates 5 key criteria :
Quality and ease of access to information
Quality of welcome systems
Quality of academic offer
Quality of learning support
Quality of housing, quality of life on campus, and post-graduation follow-up for international students
From 2023 onwards, Campus France will include a new criterion in the evaluation of « Bienvenue en France »: Environmental sustainability and social responsibility. UCLy has commited itself to this approach with the creation of the Vice-Rectorat to Ecological Transition, Social Responsability and Quality.
What is the « Bienvenue en France » label ?
You're an international student and want to study in France ?
The Bienvenue en France label allows you to identify universities offering services to facilitate your studies and job searches before, during and after your stay in France.