A European Metropolis
Lyon, administrative center of the Rhône department and European metropolis of over 2.3 million inhabitants, is situated at the confluence of the Rhône and Saône rivers. Lyon is a cultural, artistic and gastronomic centre, as well as a UNESCO World Heritage Site. As such, it has an abundance of architectural and cultural treasures.
It hosts events of international dimension such as the Dance and Art Biennale, the Nuits Sonores, the Nuits de Fourvière, the Fête des Lumières (Lyon festival of lights), etc.
Lyon offers a variety of cultural draws such as its Opera, House of Dance, theaters, museums, libraries...
It is one of France's most prominent centers for European business. Many foreign and domestic companies of international scale as well as international organizations (Interpol, Euronews, WHO, IARC ...) are located in Lyon and the Auvergne-Rhône-Alpes region.
Lyon is the second largest student city in France with four universities and several colleges. The scientific community is very dynamic with particular centers of excellence in the areas of medical research, biotechnology, transportation, clean technology and digital entertainment.
Lyon's hightlights
– Lyon is considered as the world capital of gastronomy.
– A bouchon is a unique type of restaurant found in Lyon that serves specialities of the region: andouillette (sausage of coarsely cut tripe), tablier de sapeur (beef tripe marinated in white wine, covered in breadcrumbs and fried), cervelle de Canut (cheese seasoned with chopped herbs and shallots), grattons (pork, goose, chicken or duck fat fried… in their fat!), quenelles (mixture of creamed fish or meat, with a light egg binding, formed into an egg-like shape).
– Lyon was historically known for the production and weaving of silk. The silk-weavers were called canuts.
– Traboules are hidden passages connecting one street to another. Originally used by the canuts during the 19th century to transport silk but also by the French resistance during the Second World War.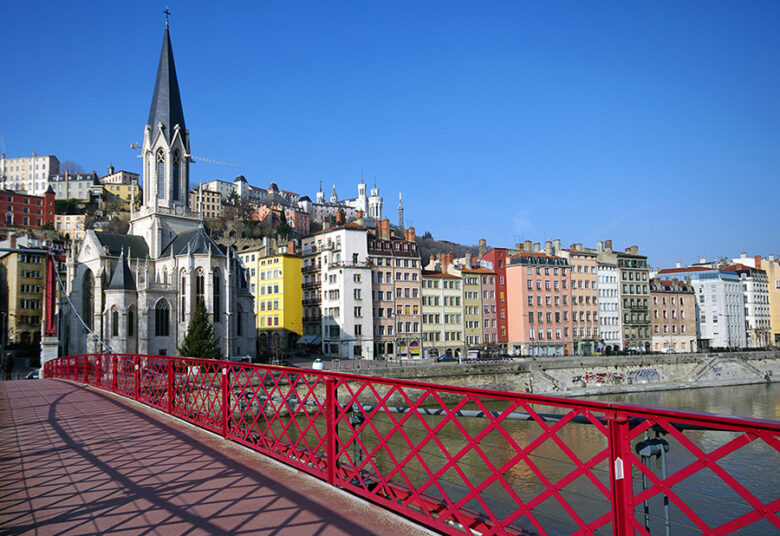 Key moments in Lyon
Dance and Art biennale (September-October)
The biennale alternates between dance and art every year
Lumiere festival of cinema (October)
The worldwide event of classic cinema
Festival of lights (December)
For 4 nights, a variety of different artists light up buildings, streets, squares and parks all over the city
Quai du polar (March)
A unique panorama of the world's crime fiction with hundreds of authors for 3 days in Lyon
Nuits sonores (May-June)
During the ascension weekend, a festival that focuses on electronic music
Assises internationales du roman (May)
A festival for the readers!
Lyon comic festival (June)
To celebrate the art of comic, the city welcomes more than 200 writers
Consular parties (June)
Get to know more about different cultures, traditions and foods with representatives from more than 50 countries
Nuits de Fourvière (June-July)
A month and a half of various artistic representations: music, theater, dance, circus
Tout l'monde dehors (summer)
Free events during the summer