The International Relations Office is pleased to welcome you to Lyon Catholic University for your exchange or individual mobility.
Due to the current health situation, we are unfortunately unable to organize our traditional Welcome Cocktail. However, we have decided to offer you a week dedicated to welcoming you, the Welcome Week, which will take place from September 13 to 17.
You will be able to take part in meetings and exchanges in small groups to respect the health measures.
So, don't wait any longer to register for our events!


Share a friendly breakfast
Come and share coffee and croissants on the Saint-Paul campus and meet other international students who have recently arrived in Lyon! You will also discover our International Relations team, which will be there to help you throughout your stay.
Getting to know the place
Our University has two campuses in Lyon: Saint-Paul and Carnot, which are located close to each other (10 min walk). Depending on your field of study, your courses will take place on one of these two campuses. Therefore, we would like to offer you guided tours to help you find your way around and discover the history of the Saint-Paul campus.
Dive into the heart of Lyon's former prison through a historical guided tour of the Saint-Paul campus in English. You will discover these 19th century buildings which are now mixed with modern architecture.
Choose your day for Saint-Paul guided tour!
Would you like to be aware of the various services available on the Carnot campus (restaurants, library, student break rooms...) so that you can take full advantage of them? This tour of the Carnot campus in English will guide you and show you the different infrastructures.
Choose your day for Carnot guided tour!
Learn about health coverage in France
Are you wondering how the French health care system works? You don't know what steps you need to take?
HEYME and SMERRA, two companies specialized in health coverage for young people, offer you webinars so that you can better understand the issues and make the right decisions regarding your health. Whether you are an EU citizen or not, do not hesitate to register and ask your questions to our speakers. Several slots are offered in French but also in English.
HEYME: Registration is not necessary. Click directly on the links below at the date and time indicated. Session for English-speaking students.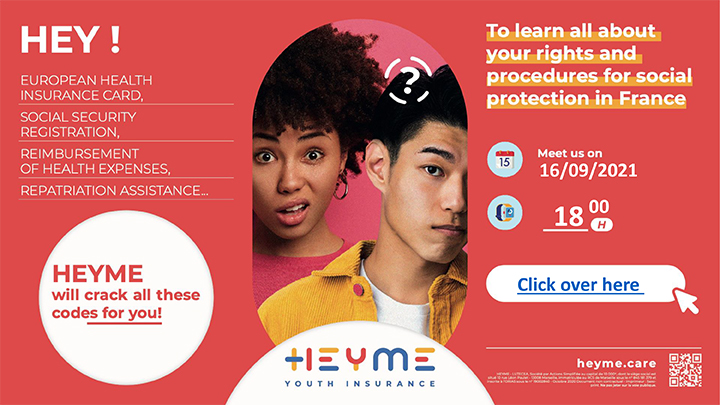 SMERRA: Session for English-speaking students on September 14th at 7:00 p.m
Bienvenue!
UCLy's administrative services are here to help you, check our presentation videos :