Tim & Colette – ESDES Intergénérations : rooms in return for help
15 years in the service of intergenerational cohabitation
Thanks to Tim &Colette, students will be able to live with elderly people and help them in their daily activities in exchange for rooms or lower rents.
Students and elderly people are required to sign an occupancy agreement and guidelines
Each "team" is followed during the year by Tim&Colette staff in order to advise and manage possible difficulties between students and their lessors.
• Annual fee : 400€
• Please note that students are required to speak French
• Compulsory interview with Tim&Colette staff before renting
For further details, please visit  www.timetcolette.fr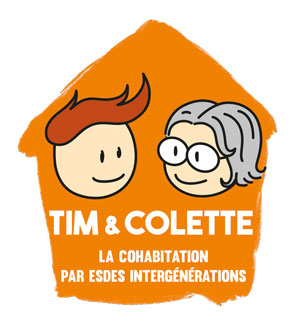 Espace Emmanuel Mounier residence
Next to Saint-Paul Campus and close to Carnot Campus, this residence accommodates students and convalescent people.
Each student is required to work as a volunteer 2 hours per week in exchange for lower rent by:
• Helping convalescent people in their daily life (administrative formalities, shopping…)
• Participating in activities to develop relationships between tenants
• Being volunteer with one of Habitat&Humanisme's partners
Accommodation types
• Studio flat : from 400€ to 420€ (all included)
• Room in a shared 3- bedroom apartment : from 300€ to 320€ (all included)
Requirements for accommodation application
• Students have to speak French
• Admission after assessment of accommodation application and interview
For further information, please contact service.logement@univ-catholyon.fr
Le Petit Prince residence: located on the former Bellecour UCLy campus
This residence accommodates students, elderly people and disabled people.
Each student is required to work as a volunteer 2 hours per week in exchange for lower rent
Accommodation types
Room in a shared 3 or 4- bedroom apartment from 210€ to 350€ (all included)
Requirements for accommodation application
• Students have to speak French
• Admission after assessment of accommodation application and interview
For further information, please contact service.logement@univ-catholyon.fr