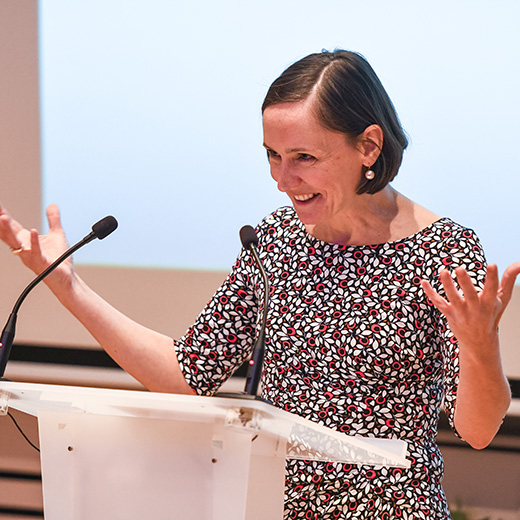 Dominique Vinay
Associate Professor at UCLy
3. Culture(s), Language and Imagineries
dvinay@univ-catholyon.fr
Campus Lyon - Carnot
23 Place Carnot 69002 Lyon
Function
Member of Culture(s), Language, Imaginaries Research Group,UR CONFLUENCE Sciences et Humanités (EA 1598) Lyon Catholic University
Further information
CNU section: 09. French language and literature
Teaching areas
French Literature - XVIth Century
French Grammar
Presentation
Dominique VINAY holds a PhD in French Literature. Dean of the Humanities and Languages Faculty of the Catholic University of Lyon between 2017 and 2023, she currently heads the ESTRI. Her interests lie in the relationship between art and literature. She is a member of the CONFLUENCE: Sciences et Humanités research unit (Cultures, langue, imaginaires cluster) at the UCLy, as well as the Art et Reconnaissance international research group attached to the International Human-Being Research Center supported by the University of Perugia (Italy).

Articles

Articles in peer-reviewed journals

AYROULET, Elie, VINAY, Dominique (2020). «L'ascension du mont Ventoux de Pétrarque, allégorie d'une humanité en quête d'élévation». Verbum Analecta Neolatina, XXI, 1-2, 1-20.
Scientific collaborations

Associate member of research networks / laboratories

Since 2018, Member of a research team, International Human-being Research Center (IHRC), Italy
Academic background

2003 PhD in Humanities, "La Couronne et la harpe. Figures du roi David dans la littérature française de la Renaissance.", Centre d'Etudes Supérieures de la Renaissance (CESR), France
1996 Diploma of Advanced Studies, Literature, Langue et littérature françaises of the XVIth Century, Centre d'Etudes Supérieures de la Renaissance (CESR), France
1995 Master, Art, Comparative Literature, "The Game of Revelations in "Las Fortunas de Andrómeda y Perseo" by Pedro Calderón de la Barca (1653). Poetry, painting and music"., Université de Montréal, Canada

Other certifications & qualifications

Certificate in Spanish language and culture, Universidad de Salamanca, Spain

Prizes & distinctions

1999 - 2000 Canadian federal research funding agency, Social Sciences and Humanities Research Council (SSHCR), Canada
1996 - 1999 Bourse d'excellence doctorale pour la recherche (36 mois), FRQSC, Canada
1995 - 1996 Bourse d'excellence pour un DEA au Centre d'études supérieures de la Renaissance, Université de Tours., FRQSC, Canada