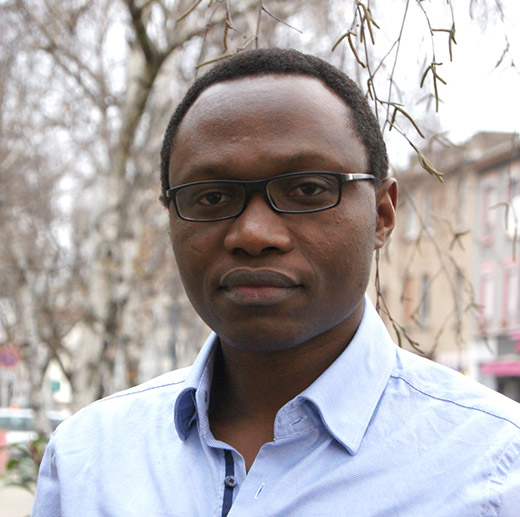 Aimable-André Dufatanye
Associate Professor
5. Integral Human Development, Ecology and Ethics
adufatanye@univ-catholyon.fr
Campus Lyon - Saint Paul
10 Place des archives 69002 Lyon
Function
Member of the research team Integral Development, Ecology, Ethics, CONFLUENCE : Sciences and Humanities Research Unit - EA 1598 Lyon Catholic University
Further information
Field (CNU): 17. Philosophy (n° 12217231822)
Research areas
Philosophy
Management Sciences
Teaching areas
Philosophy
Management
Works

Monographs

NDAHAYO, Emmanuel, DUFATANYE, Aimable (2015). La violence politico-militaire contre les femmes au Rwanda. Lille : Editions Sources du Nil, 289 p.

Chapters

Book chapters

DUFATANYE, Aimable (2019). «Logique, raisonnement et argumentation ». In : I. Chareire (dir.), Les dialogues de Sophie et Béatrice: Introduction à l'exercice de la philosophie dans le champ théologique. Ed. Profac, 185-215.
DUFATANYE, Aimable (2015). «Réalisme et Contradiction». In : B. Souchard, F. Revol (dir.), Réel voilé et cosmos théophanique. Le regard de l'homme sur la nature et la question de Dieu. Paris : Ed. Vrin, co-édition IIEE, 93-122.

Articles

Articles in non-peer reviewed journals

DUFATANYE, Aimable (2017). «Les conflits politico-militaires ethnicisés et leurs victimes « oubliés » : cas des femmes dans la région des grands lacs d'Afrique». Revue de l'Université Catholique de Lyon, 32, 36-43.
DUFATANYE, Aimable (2017). «Des fondements et des approches pluriels du management de la Responsabilité sociétale des entreprises ». Théophilyon, XXII, 1, 51-78.

Communications (conferences, seminars, study days)

DUFATANYE, Aimable (2018). «The political, economic and socio-cultural impacts on the different conceptions of social Entrepreneurship in France, the USA and South Africa». Seminar presentation, Université de Varsovie, September 2018, Varsovie, Poland.
DUFATANYE, Aimable (2016). «Le management de la RSE et ses paradoxe». Colloque Expérience, expertise, expérimentation, Ecole centrale de Lyon, April 2016, Lyon, France.
DUFATANYE, Aimable (2015). «Les multiples facettes de l'exclusion des femmes violentées : le cas de l'Afrique des Grands Lacs». Symposium "Exclusions : entre Résignations et colères", UCLy, October 2015, Lyon, France.

Popularization & dissemination of research

DUFATANYE, Aimable (2017). «Social Enterprise in Europe and the specificity of the French social and solidarity economy». Digital Tech and Business Integration Workshop, University of the Western Cape, July 2017, Cape town, South Africa.
Scientific collaborations

Participation in subsidized research contracts / projects

Member : 2017 - 2020, Part'Innov – For partnerships that generate social innovation, FEDER - Part'Innov, in partnership with Les Ateliers de l'Entrepreneuriat Humaniste - AEH

Editorial activities

Member of editorial boards

Since 2019, Member of the editorial board, Ethos

Direction of dissertations / theses / HDR

Thesis director, La question du sens de l'Histoire et son: actualité au plan politique, PhD thesis, Lyon Catholic University, Lyon

Member of thesis jury / HDR

Thesis Jury President, Usage public et régulé de la Raison dans l'État de droit démocratique. Approche critique des Théories de l'action et de la société de Ju¨rgen HABERMAS, PhD thesis, Lyon Catholic University, Lyon, 2021
Thesis Reviewer, PhD thesis, Lyon Catholic University, Lyon, 2014

Expertises, evaluations & consulting

2015, Training and consulting for leaders and Managers, on CSR and Sustainable Development Management, CGECI (Confédération Générale des Entreprises de Côte d'Ivoire), Ivory Coast
2015, Training and Consulting for SMEs Managers on CSR and Sustainable Development Management, CERAP, Ivory Coast

Stays in foreign laboratories

01/08/2018 - 01/10/2018, Visiting scholar, University of Warsaw, Poland
01/07/2018 - 31/08/2018, Visiting scholar, Georgetown University, United States of America
01/06/2017 - 31/07/2017, Visiting Scholar, University of Western Cape, South Africa
01/06/2016 - 31/07/2016, Visiting scholar, Georgetown University, United States of America
Academic background

2011 PhD, Le principe de non-contradiction. considérations logiques, mathématiques et ontologiques : De la nature et de la valeur du principe de non-contradiction, contribution de Jan Lukasiewicz à l'interprétation d'Aristote, Ecole normale supérieure de Lyon (ENS Lyon), France

Teachings

2008 - 2022 Logique, Lyon Catholic University, France

Languages

French - Able to teach
English - Able to teach
Polish - Able to teach
Latin