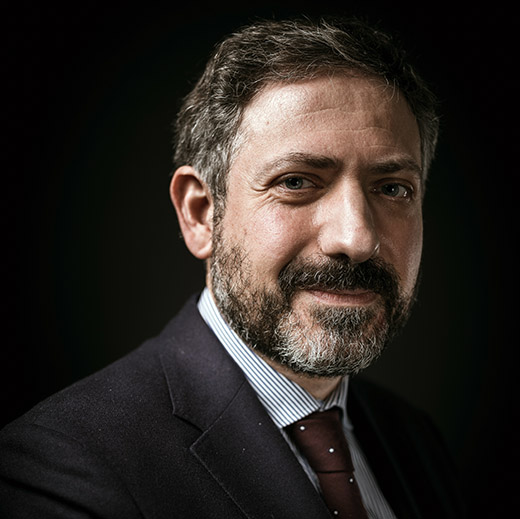 Michel Cannarsa
Professor
6. Legal, Political and Social Sciences
mcannarsa@univ-catholyon.fr
Campus Lyon - Saint Paul
10 Place des archives 69002 Lyon
Function
Dean of the Faculty of Law Lyon Catholic University
Further information
Field (CNU): 01. Private law and criminal sciences
Presentation
Pr. Michel Cannarsa is Dean of Law at Lyon Catholic University (UCLy). His areas of research are Product Liability, Law of New Technologies, Comparative Law, Consumer Law and Law of Obligations. He has recent books and articles on the interaction between law and technology, contract and products liability law including,  The Cambridge Handbook of Lawyering in the Digital Age (2021), co-edited with Larry DiMatteo, Mateja Durovic, André Janssen, Pietro Ortolani and Francisco de Elizalde, 'Civil Liability and New Technologies', in T. Tridimas and M. Durovic (eds.), The Future of European Private Law, (Hart, 2021); The Cambridge Handbook of Smart Contracts, Blockchain Technology and Digital Platforms, co-edited with L. DiMatteo and C. Poncibò (Cambridge University Press 2019) ; 'Interpretation of contracts and smart contracts: smart interpretation or interpretation of smart contracts?', [2018] 26 European Review Private Law, Issue 6, pp. 773-785 ; 'Remedies and damages', in L. DiMatteo and C. Lei (eds.), Chinese Contract Law, Civil and Common Law Perspectives,  (Cambridge University Press, 2017), pp. 377-403.
He is regularly involved in European research projects and recently chaired the Notaries beyond Frontiers EU project (European Commission Justice Programme). He is a fellow of the European Law Institute and an elected member of UCLy's Scientific Committee.  

Direction & coordination

Management & coordination of conference proceedings

CANNARSA, Michel, CURSOUX-BRUYÈRE, Sandrine, PETIT, Carole (dir.) (2017). Dossier "La notion de personne", Actes de la conférence de synthèse (juin 2017). Editions Dalloz, Recueil Dalloz, 10 p.
Coordination of scientific events

Member of the scientific committee of the conference Le droit des affaires à l'épreuve de la digitalisation, Lyon Catholic University, France, 2019
Member of the scientific committee of the colloquium Lawyering in the Digital Age, co-organisé par University of Florida, King's College, IE University, UCLy, Radboud University, Netherlands (The), 2019
Scientific coordination of the Smart Contracts and Blockchain Technology conference, Lyon Catholic University, France, 2018
Participation in the organisation of the Restorative Justice conference: feedback from experience. Which philosophy? Which meaning, which actors?, Lyon Catholic University, France, 2017
Organisation of the seminar Responsibility and digital, European Law Institute, Austria, 2017
Organisation of a round table on "Ethics, algorithms and justice" as part of the CNIL's national debate on "Ethics and digital technology: algorithms in debate, Cour administrative d'appel de Lyon, France, 2017
Organisation of a round table on Digital Compliance: The legal response, Medef, France, 2017
Co-organisation of a synthesis seminar on the "notion of the person", Lyon Catholic University, France, 2017
Coordination of the 1st Lyon International Trade and Investment Symposium, Lyon Catholic University, France, 2015

Scientific collaborations

Participation in subsidized research contracts / projects

Project coordinator : 2018 - 2020, Notaries Beyond Frontiers, NBF, in partnership with Centre notarial de droit européen and Chambres notariales (fr, pt, es, it, be, nl)
Member : 2014 - 2016, Warning on Crime, Strengthening Knowledge Enhancing Warnings Raising Awareness on Public Works Corruption and Criminal Infiltration (W.O.C.), HOME/2012/ISEC/AG, led by Universita degli Studi di Torino - UNITO, in partnership with Lyon Catholic University, Maastricht University and Romanian Center for European Policies (CRPE)
Academic background

2020 HDR, Law, Private law and criminal sciences, Convergence des droits nationaux et européens en droit des obligations et des nouvelles technologies, CY Cergy Paris Université, France
2003 Phd in Law, La responsabilité du fait des produits défectueux: étude comparative, Université Jean Moulin Lyon 3, France

Educational responsibilities and professional experiences

Since 2020 Dean of the Faculty of Law, Lyon Catholic University, France

Languages

French - Able to teach
Italian - Able to teach
English - Able to teach