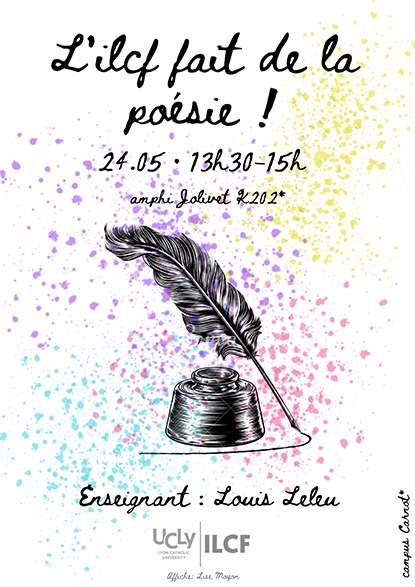 At the end of the second semester, the students in teacher Louis Leleu's group presented their original poetry creations to an audience invited for the occasion. For the final stage of their workshop, they recited their poems, accompanied by a piece of music of their choice.
The workshops
Thanks to Louis' workshops, these pupils have learned to recognise and write French poetry in different forms. The teacher introduced them to prose, sonnets, calligrams, haikus and pastiche poems. Once they had completed all these stylistic exercises, they were able to choose the form that spoke most to them in order to begin their personal project.
This project was their final task. With the knowledge and vocabulary they had acquired, they set about writing a poem.
The classes were not just about writing skills. The group took part in voice workshops. They practised their intonation and rhythm, and learned to read with emotion: for some shyness, for others sadness, and so on.
But what started out as a pair activity became individual work, with each pupil choosing a theme close to their heart. Louis explains that it wasn't easy to manage on his own and gain confidence. However, they all managed to produce a unique personal work. For the teacher, one instruction was particularly important: to bare one's emotions.
Declamation under the sign of emotions
The instructions were understood and applied, as the young poets delivered an emotional service to the public. The audience witnessed touching declarations to their mothers ("Une lettre à maman" by Grecia) and grandmothers ("Un dernier adieu" by Isabela); they also discovered the eclectic passions of the group (Mina and the city, the solitude of Hojatollah, or French cheese for Yi An); and sympathised with nostalgia, whether for the country of birth ("Chez moi" by Elle) or for a past relationship ("Le temps où rien n'était encore fini" by Kristiane).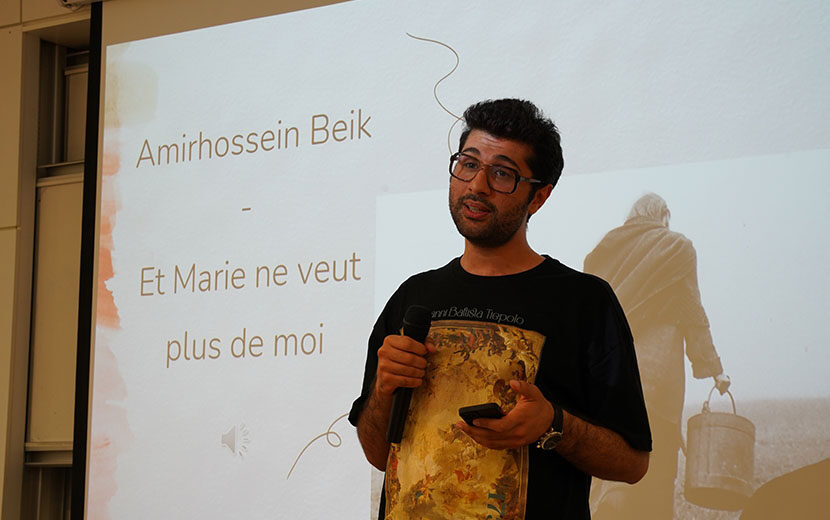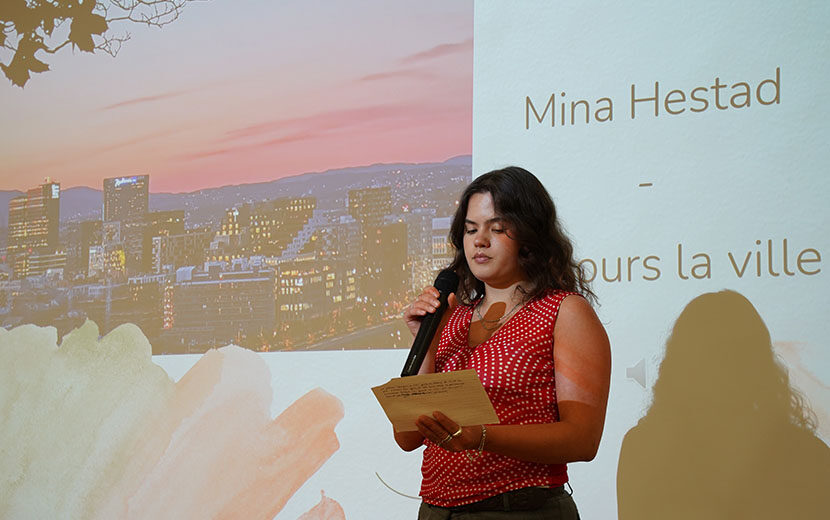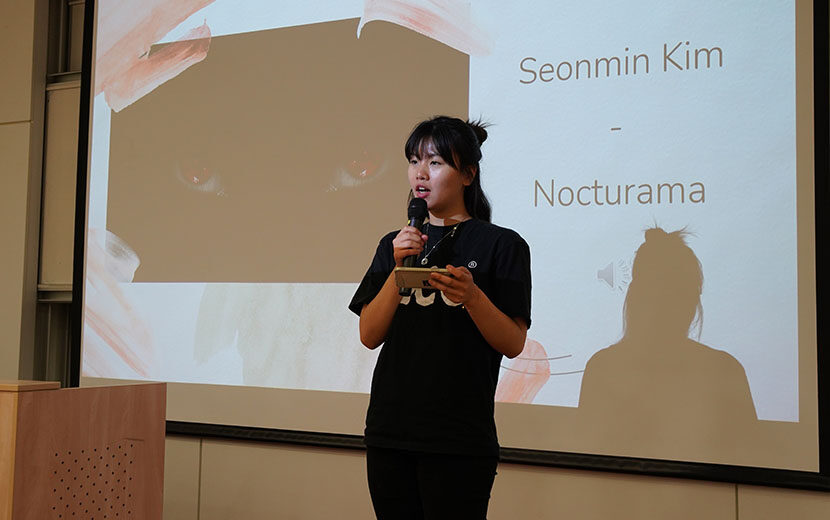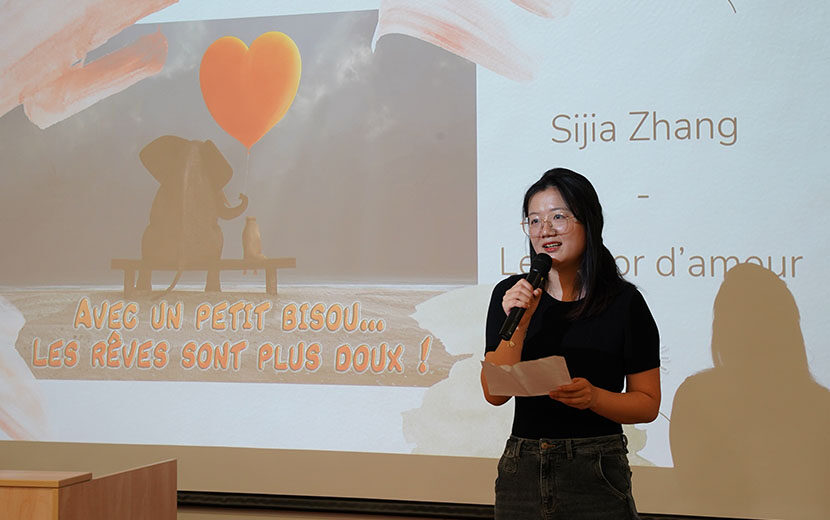 Behind the scenes of poems
The creative process was not the same for everyone.
Hojatollah found learning French tedious, but poetry made it more enjoyable. Like Hojatollah, Amir is Iranian. He reminded us that Iran is the "land of poetry", an art to which he is sensitive. A filmmaker himself, he was happy to play along.
Isabela chose to write in prose. As her theme was based on a personal situation, strong feelings took precedence over style.
Cameron enjoyed the French puns during the lessons. The title of her poem, "La fille ensoleillée", comes from a literal translation from English (in French we say a "solar" person instead of a sunny person). She chose to keep this wording, which gave her text its own poetic dynamic.
As for Negin, she wrote around a metaphor, after studying figures of speech. She used this technique to express the variety of feelings of love in "Les Vagues de l'amour". In her story, she evokes very intense love, toxic love, calm love and infinite love.
During the first workshops, Grecia struggled to write in French. While talking to her mother one day, she got the inspiration for the theme of her creation. Out of her joy and sadness, she composed a text, amazed at her ability to manipulate the words of this foreign language!
Generally speaking, this exercise involved working with words, but also drawing on one's own feelings. According to Sijia, poetry means "using the minimum number of words to express the maximum amount of emotion".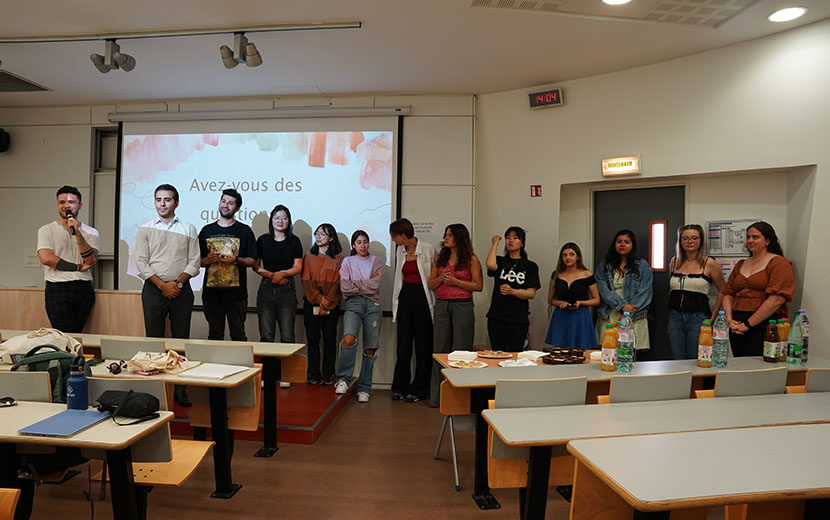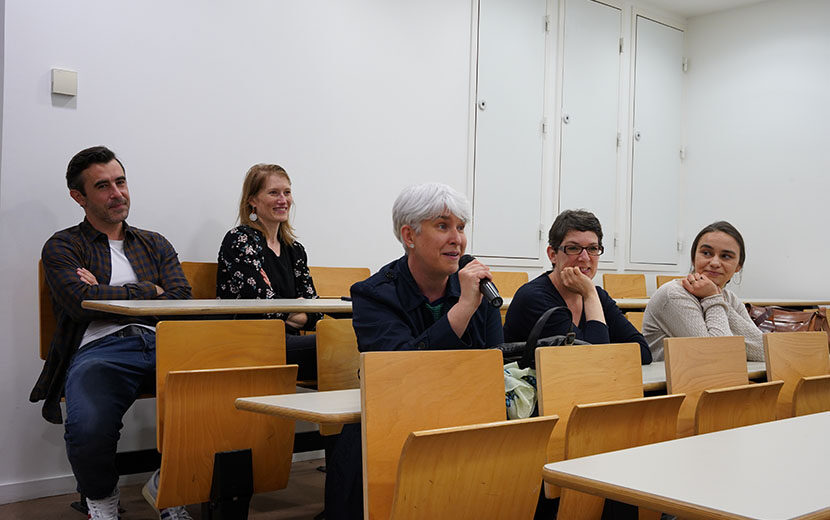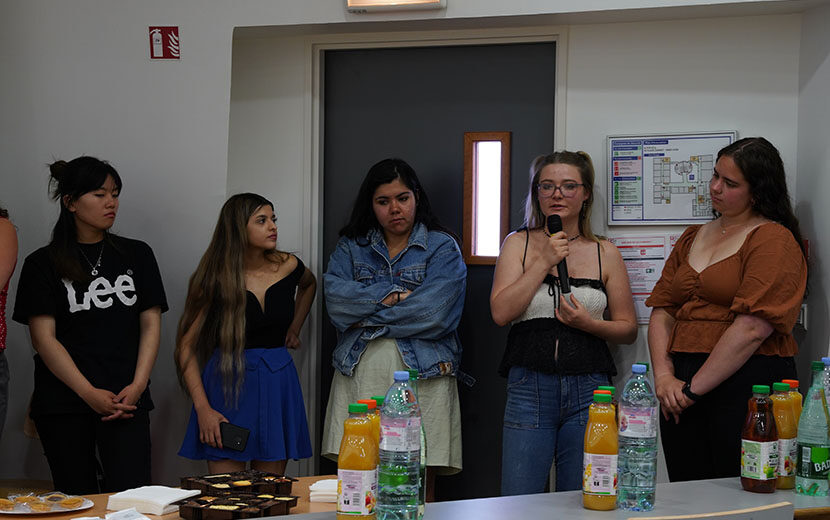 Poems
Nocturama
Quand le clair de lune s'infiltre en eux
Ils se sont réveillés
Après le long soleil d'été
La nuit où tout le monde a fermé les yeux
Au bord de l'eau, serpent marin épineux
Sa queue se mouillait
D'un autre côté, les coyotes qui ont l'air ennuyé
Ils sont lavés des pommes pour eux
Regarder la main qui les lave, demi-ouvert
Ils font face à l'obscurité toute la nuit
Les yeux grands ouverts
Ils essaient de ne pas s'habituer à la nuit
La sortie peut être découvert
Le jour peut être récupéré par la nuit
Seonmin KIM
Toujours la ville
Long, trop long mon cœur a été sans chansons
Mais maintenant je vis au milieu de la ville comme autrefois,
Et mon cœur balance de joie d'être chez moi.
Au cœur de la ville, sous le toit d'une maison en béton armé.
Des collines lointaines et des arbres que je peux saluer
La paix rurale n'est pas bonne pour me développer.
Ici, dans le loft, j'entends jour et nuit la voix de la ville
Le rugissement des voitures et le crissement des trams et le grand rire des jeunes fragiles.
Il est bon pour la femme de savoir qu'elle n'est pas en exil.
La ville, toujours la ville, jusque le moment où je m'endors immédiatement
Comme une lampe électrique noire quand sa lumière est absente
Puis-je faire briller un peu de lumière dans la ville, pour que son esprit soit moins gris ?
Mina HESTAD
Et Marie ne veut plus de moi
Dans la sécheresse de la rêverie,
Une croix tombe sur mon dos.
Mais Lazare a refusé mes miracles,
Et Marie ne veut plus de moi.
Quel prophète suis-je sans adorateur ?
Quel prophète suis-je quand mon père est loin d'ici ?
Les montres sont folles,
Elles s'enfuient du temps,
Je suis un homme pour une autre époque,
Le prisonnier de ma naïveté.
Une croix tombe sur mon dos
Amir BEIK
Chez Moi
Tous les jours je pense à mon pays. Pourquoi ? C'est joli ici. Les fleurs, le paysage, la langue, je les aime. Chaque jour est une aventure. L'incertitude est un bon défi. Mais, il y a toujours un « mais », mon pays me manque. Chez moi, c'est comme une étreinte. Tout est familier : la langue, les magasins, les gens. Je connais tout chez moi. Tout le monde est chez moi : ma famille, mes amis. Est-ce que ce sont les gens qui me manquent ou est-ce que ce sont les sentiments.
Comment puis-je expliquer les sentiments de mon pays ? C'est comme un arc-en-ciel après un grand orage. C'est comme un orage après une longue sècheresse. C'est comme le premier jour de printemps après l'hiver : Le soleil t'embrasse, Tout le monde est heureux, On entend du bruit, des rires, chacun sourit, Personne n'est triste. Comment puis-je expliquer la joie d'être avec ma famille et mes amis. C'est comme si nous ne nous séparerons plus jamais. Ils connaissent tout de moi. Il n'est pas nécessaire de parler, on veut être seulement ensemble.
Je veux rentrer. Je vais rentrer bientôt. Je suis rentrée. J'ai vu ma famille et mes amis. Rien n'est pareil. La France me manque. Je veux rentrer.
Elle WILBERS
Les Vagues de l'Amour
Lorsque l'amour est en colère, furieux et déchaîné,
Comme les vagues en tempête, il vient tout balayer.
Il déferle avec force, frappant les rochers de l'âme,
Ébranlant les fondations, semant le doute de ma flamme.
Mais l'amour peut aussi être passion, brûlant et ardent,
Comme les vagues qui dansent, enivrants mouvements.
Il nous emporte dans son tourbillon, sans retenue,
Un océan d'émotions, un feu qui nous consume, toute nue.
Et parfois, l'amour est calme, apaisant comme la mer,
Comme les vagues qui caressent le rivage avec mystère.
Il murmure des mots doux, berce nos cœurs endormis,
Nous enveloppe de quiétude, d'un amour infini.
Ainsi vont les vagues de l'amour, tour à tour enragées,
Passionnées ou sereines, dans l'éternité du temps figées.
Elles sont le reflet de nos cœurs, de nos émotions profondes,
Les gardiennes de nos amours, de nos joies et de nos frondes.
Negin NAJIESFAHANI