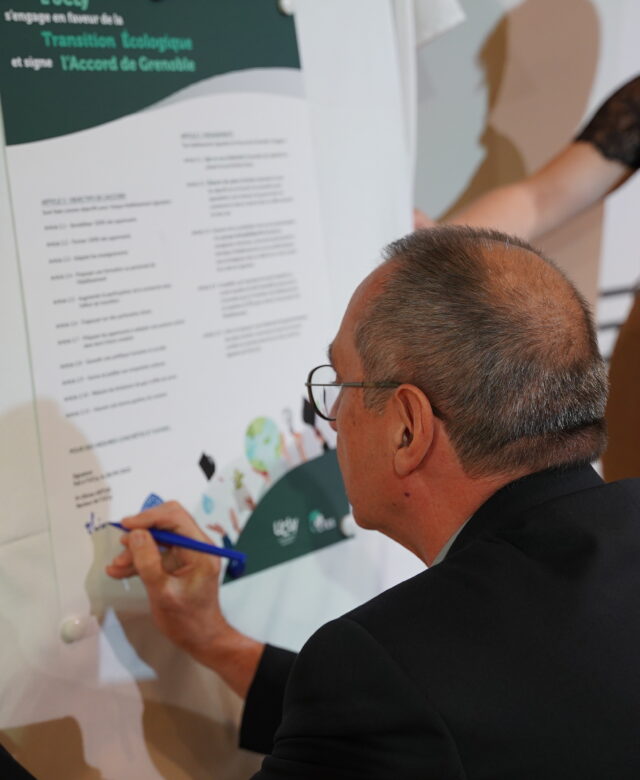 The Grenoble agreement: UCLy strengthens its commitment to the socio-ecological transition
On 28 September 2023, UCLy officially joined the Grenoble Agreement. This document lays out a commitment by around a hundred French higher education establishments to work together to drive forward the environmental transition. Inspired by the Paris Agreement and a result of the work of France's Student COP2, it gives them a list of concrete goals related to the teaching, staff training, student life, working life, research and day-to-day functioning of these establishments.
Campus Life News of the school
updated on 13 November 2023
UCLy
UCLy launches a collective effort to further the environmental transition
The start of the 2023-2024 academic year has been marked by a renewed commitment to the ecological and societal transition. "Two events convinced me that we needed to go further and faster in the ecological and societal transition," explains Professor Olivier Artus, Rector of UCLy. "In 2022, the Ministry of Higher Education and Research invited UCLy to get involved in the development of a strategy for the socio-ecological transition. Then, in a large consultation on the quality of student life, all 20 groups of students placed the environment at the top of their priorities for the future."
The goal of the Grenoble Agreement is to bring all of the stakeholders of a university together to take concrete action within the establishments.

Clémentine Boulle, representative of the CTES (Convention for the Transition of Higher Education Establishments)
"Day after day, report after report, summit after summit, we're seeing the gravest scenarios predicted by international organisations take shape," said Professor Olivier Artus, Rector of UCLy. "The first brutal consequences of climate change are now part of the reality of our world, one which we now face together."
A short, medium and long-term action plan
"UCLy's university community have asked us to quickly launch a strong, visible and collective policy for the socio-ecological transition," explained Olivier Artus during the Agreement signing ceremony. A number of clear objectives have already been declared for UCLy:
- To carry out and publish an assessment of its greenhouse gas emissions
- To obtain the DD&RS sustainable development and social responsibility certification
This certification is issued by CIRSES (an association for the integration of social responsibility and sustainable development into higher education). Through it, therefore, UCLy is committing to tracking and making visible its socio-ecological progress in terms of management involvement, teaching and training, research, social policy and the environmental implications of its functioning. This transformative, improvement-focused approach will help to guide and prioritise the actions that need to be taken and incorporated into an overall Sustainable Development & Social Responsibility plan, expected from the Ministry of Higher Education and Research by the end of 2024.
- To bring the ecological and social transition into all of UCLy's courses, with a common foundation in TEDS (Ecological Transition for Sustainable Development) for all undergraduate students.
- To increase staff awareness of the issues involved in TERSQ (Ecological Transition, Social Responsibility and Quality) and provide training on this.
UCLy is changing its governance to give it the means to carry out these objectives. Dr Marie Bui-Leturcq had already been named Vice-Rector for the Ecological Transition and Social Responsibility in February 2023. Now, to anchor the ecological and societal transition at the heart of how UCLy functions, this role will be accompanied by a permanent department.
And to ensure it functions in a cross-disciplinary and collaborative way, this department will be supported by a new Ecological Transition Consultation Working Group. This group will enable expression and monitoring by the three bodies that make up the university community: students, administrative and service staff, and teaching and research staff.
Responsible sorting of waste. All concerned!
In October 2023, UCLy is putting in place a new system for better waste sorting (separating paper & cardboard, metal, plastic, glass and wood) and, for the first time, combining it with the collection and composting of biowaste. 51 collection points will be rolled out on the Saint-Paul campus and 30 on the Carnot campus.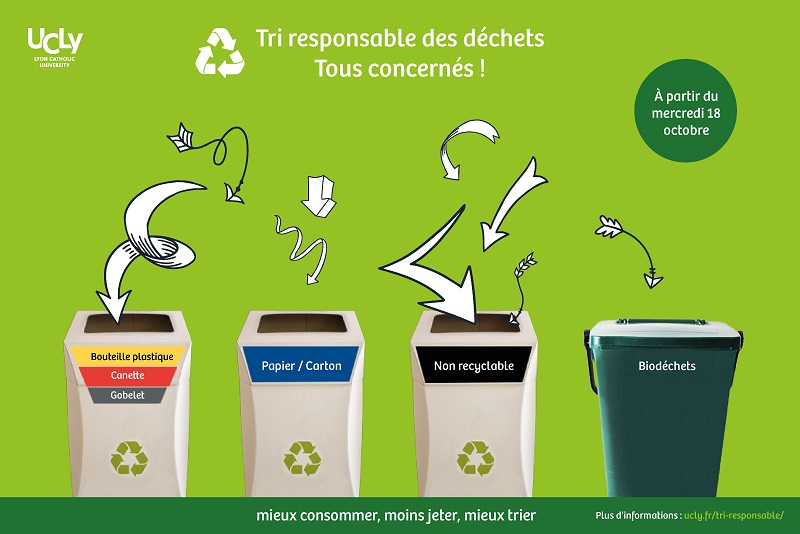 Student involvement
"At UCLy, we see TERSQ as the collective expression of a commitment to university education that serves the common good," Olivier Artus reminds us. And there's no collective expression without student participation...
During the signing of the Agreement, Clémentine Boullé, representative of the CTES, stressed the importance of students taking part in their establishment's efforts. It's not an option, but a lesson learned from experience! "What we've realised is that the environmental measures within higher education establishments only have an impact when the students themselves take ownership of them!"
Unsurprisingly, the environment emerged as a major theme in the consultation on the quality of student life held during the 2022-2023 academic year. The 20 groups of students consulted all asked us to do more in this area!
A strong demand is emerging among UCLy's students: for us to incorporate the ecological and societal transition into all courses as quickly as possible.  "For lots of us, UCLy will be the last school we'll ever know," explains Maxence Gaime, a third-year student at ESQESE. Expanding on this idea, Clara Kouakou, a fifth-year student at ESTBB, says: "What we learn at university is what we'll use in our future careers. It's a key issue, it can help to change mentalities and ways of doing things."
"It's something that needs to become natural!" says Emma Jeannot, third-year student at ESDES. "The environment can't be something we force ourselves to think about, like a chore. It should become a set of familiar habits."
Assets and Priorities
Helping us in our efforts to reduce our environmental impact, UCLy is lucky enough to have very recent premises (the Saint-Paul campus is 8 years old, the Carnot campus 15 years old, and the Annecy campus 2 years old). Saint-Paul, the largest of the three campuses, is both heated and air conditioned using a ground source heat pump, which minimises the buildings' energy consumption (36kg equivalent CO2 per student per year in 2019).
UCLy brings together very different fields of knowledge within the same establishment. Sciences, humanities and even an engineering school and business school... We've got everything! This multidisciplinary aspect has a role to play in putting our expertise to action for the climate.

Marie Bui-Leturcq, Vice-Rector for the Ecological and Societal Transition
This foundation of excellent facilities will enable UCLy to focus its efforts, where its functioning is concerned, on digital technology, purchasing of goods and services, food and employee and student transport... All the same, this represents the vast majority of emissions for a higher education establishment! So, our work is only just beginning...