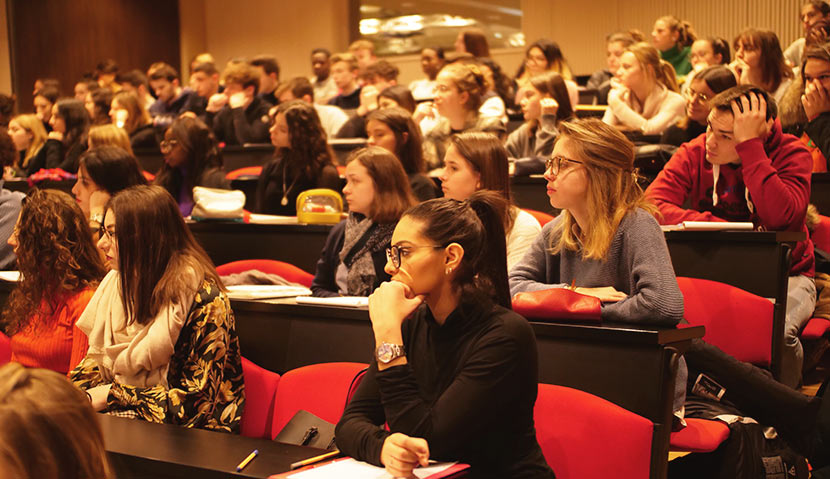 Master's Degree - Human Rights Diplomacy
Full-time study
MASTER's DEGREE – HUMAN RIGHTS DIPLOMACY
Purpose
The Master's Degree in Human Rights Diplomacy is a multidisciplinary degree cross cutting the three key areas of International Law, International Relations and Political Sciences. These areas will intersect around major international issues such as minority issues, climate change and migration law. The basic premise of this programme is to comprehend how diplomacy, in parallel to other human rights mechanisms, can become a process of promotion and protection of human rights. Conversely, it explores how human rights may be interpreted from a diplomatic perspective, while in tandem maintaining its own degree of importance.
It will also examine the components and actors of Human Rights Diplomacy in order to understand how they interact within the different levels of a global governance, and how they appropriate the tools of international relations, among others: law, multilateralism, cooperation or public policy.
The students will acquire a better understanding of the development of international relations and international law and will have a holistic approach to the promotion and protection of human rights.
Organisation
The Master's Degree lasts one academic year, which is divided into Semester 1 and Semester 2. The lectures will be based on 6 teaching units.  The units are divided into different sections alternating between mandatory and optional courses.
For further information, please contact us : m2.hrd@univ-catholyon.fr
Target Audience

Recruitment level : applicants are required to hold an undergraduate degree in law, political science, international relations or other degree with an equivalent international qualification and a Postgraduate degree and in any event at least 4 years of undergraduate studies.
Students (foreign and French) who reside in France or in UE: applications from March 2023 with the platform Mon master
Admission conditions :
Application form or Mon Master;
Face to face interview and language test (if needed)
Applications for foreign students who do not reside in France for the 2023-2024 academic year: applications from October 2022 to 15 May 2023
Should you encounter any difficulty, please contact us at : m2.hrd@univ-catholyon.fr.
In case of technical issues please download this FORM.
For 2023-2024 :
New students entering directly in the second year (M2) 8 200 €
International

Students will enjoy a multicultural learning environment and an international exposure through lectures, seminars and conferences provided by international experts and renowned speakers. Such continued exposure will be reinforced by an important network of partnerships such as the UN Agencies, NGO's and specialised agencies, where students will have the opportunity to complete their end of year internships.  Students will also benefit from the worldwide IDHL alumni network.
Teaching team

The teaching team is comprised of renowned experts from international organisations and academia.
Eric TISTOUNET: Chief of the Human Rights Council Branch, Office of the United Nations High Commissioner for Human Rights,
Ibrahim SALAMA: Director, Human Rights Treaties Division, Office of the High Commissioner for Human Rights,
Fernand DE VARENNES, Special Rapporteur on Minority Issues
Nicholas BRASS, Senior External Engagement Coordinator for Europe at UNHCR, the UN Refugee Agency
Research-based role

Developed primarily for students seeking to enter the professional sphere, the degree provides also the possibility of veering towards a research-based career in the field of global human rights.
French classes
Classes of French as a foreign language courses are proposed free of charge.
The Master's Degree responds to the recent strategic and methodological developments in the promotion and protection of human rights. Aimed at students keen to complete a diplomatic legal course, it opens up to international careers within diplomatic services, regional and international organisations, governmental human rights bodies, consultancy and think tanks.
Benefits of the degree
A global and complete understanding of Human Rights diplomacy
Renowned international experts
Crosscutting and multidisciplinary teaching
Discover the
program


detailed
Detailed programme
Semester 1
UNIT 1 Theory and Practice of HR Diplomacy – 11 ECTS/Coefficient 11
HR diplomacy : Potentials and Challenges – 18h/Coefficient 3
Humanitarian Law and HR Diplomacy – 18h/Coefficient 3
International justice and HR – 15h/Coefficient 2
UN and HR mainstreaming – 18h/Coefficient 3
UNIT 2 HR Diplomacy and International Relations – 10 ECTS/Coefficient 10
Peace, Security and Terrorism – 18h/Coefficient 3
Geopolitics and Conflict Resolution – 15h/Coefficient 3
European Union HR Diplomcy and crisis management – 20h/Coefficient 4
UNIT 3 – Actors of HR Diplomacy – 9 ECTS/Coefficient 9
International Organizations and HR Diplomacy – 18h/Coefficient 3
Non-State Actors and civil society in HR Diplomacy – 15h/Coefficient 3
Business and HR Diplomacy – 18h/Coefficient 3
Semester 2
UNIT 4 Multilateralism and HR diplomacy specific issues (3 options/4) – 9 ECTS/Coefficient 9
3 option to choose:
Climate change and green diplomacy – 15h/Coefficient 3
Human Rights and Migration Issues – 15h/Coefficient 3
Human Rights of minorities and indegenous people – 15h/Coefficient 3
Women's Rights and Gender Diplomacy – 12h/Coefficient 3
UNIT 5 – Regional Approach of HR diplomacy  – 7 ECTS/Coefficient 7
African System of Human Rights Protection – 15h/Coefficient 2
Interamerican System of Human Rights Protection – 15h/Coefficient 3
Arab and Asian Systems of Human Rights Protection – 15h/Coefficient 2
UNIT 6 – Professionalisation – 14 ECTS/Coefficient 14
Communication and advocacy in Human Rights Diplomacy – 12h/Coefficient 2
HR contempory challenges (webinars) – 12h/Coefficient 1
Human Rights based approach: case studies – 18h/Coefficient 3
To choose :
Professionnal: Intership /Coefficient 8
Research: Master's dissertation /Coefficient 8