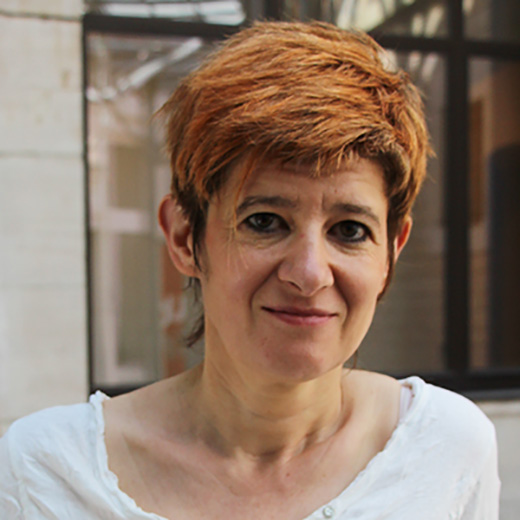 Marie-France Vernier
Associate Professor
8. Sustainable Business and Organisations
mfvernier@univ-catholyon.fr
Campus Lyon - Saint Paul
10 Place des archives 69002 Lyon
Function
Head of Program, Digital Law and Management, ESDES Lyon Business School, ESDES Lyon Business School Lyon Catholic University
Member of Institute of Sustainable Business and Organizations, CONFLUENCE : Sciences and Humanities Research Unit - EA 1598 Lyon Catholic University
Teacher Lyon Catholic University
Research areas
Eco Design
Circular Economy
Corporate Social Responsibility
Teaching areas
Alternative Mode of Consumption
International Marketing and Ethics
Societal and Environmental Issues
International Marketing and Ethics
Presentation
Docteur Marie-France Vernier is faculty member at ESDES Business School (Lyon University). Her research interests include environmental innovation, ethics, and responsibility of firms. She's teaching on Corporate Social Responsibility, Social and Environmental Issues, International Marketing and Ethics and Alternative Mode of Consumption. Her main research topics are on eco-design, circular economy and CSR.
Dr Vernier has published in peer reviewed scientific journals such as Revue d'Economie Industrielle, Journal of Cleaner Production, Décisions Marketing, Gestion, Revue Ethique et économique. Dr Vernier also participated to the publication of books « Marketing et Développement durable », « Environnement et Ecosocieté »; « 50 fiches sur le Marketing Durable ».
Dr Vernier conducted with the ADEME (Agence de l'Environnement et de la Maîtrise de l'Énergie) a research about waste preventives strategies in Small and medium entreprises. She also participated to a project financed par the Agence Nationale de la Recherche about sustainable development practices of retailers in food sector. She is also regularly working for the Pole National Ecoconception about the profitability of ecodesign.

Works

Monographs

LAVORATA, Laure, GURVIEZ, Patricia, ROBERT-DEMONTROND, Philippe, VERNIER, Marie France (2016). Marketing et développement durable. Du distributeur au consommateur. Economica.

Chapters

Book chapters

ZAIDI CHTOUROU, Sabrina, VERNIER, Marie France (2016). «La légitimité des distributeurs spécialisés sur le développement durable». In : Lavorata L., Vernier M.-F., Guvier P., Robert-Demontrond P. (dir.), Marketing et développement durable : du distributeur au consommateur. Economica.
GILORMINI, Patrick, VERNIER, Marie France (2015). «Business Ethics et responsabilité sociale de l'entreprise». In : V. Chassagnon (dir.), Vers un modèle de gouvernement durable de l'entreprise capitaliste : l'unité dans la pluralité au service de la société. Lyon : ESDES Publication, 39-50.
VERNIER, Marie France, LE BAS, Christian, HANED, Naciba (2015). «La performance économique des entreprises à travers le prisme des innovations environnementales». In : V. Chassagnon (dir.), Vers un modèle de gouvernement durable de l'entreprise capitaliste : l'unité dans la pluralité au service de la société. Lyon : ESDES Publication, 119-128.

Articles

Articles in peer-reviewed journals

ARFAOUI, Nabila, LE BAS, Christian, VERNIER, Marie-France, VO, Linh Chi (2022). «How do governance arrangements matter in the circular economy? Lessons from five methanation projects based on the social-ecological system framework». Ecological Economics, 197, 107414. URL/DOI : [+]
VERNIER, Marie-France, ARFAOUI, Nabila, CHALLITA, Sandra, LANOIE, Paul, PLOUFFE, Sylvain (2022). «Factors Influencing Profitability in Eco-design: Lessons from European and Canadian Firms». Journal of Innovation Economics & Management, 2022/0 (Prépublication). URL/DOI : [+]
VERNIER, Marie France, TRAN DIEU, Linh (2017). «La prévention des déchets : une analyse empirique des déterminants du comportement des entreprises». Revue d'économie industrielle, 159, 113-137.
VERNIER, Marie France (2013). «Les facteurs clefs de succès de l'écoconception : leçons tirées de quelques cas d'entreprises». Gestion : Revue Internationale de gestion, 38, 3, 67-74.

Articles in non-peer reviewed journals

ZAIDI CHTOUROU, Sabrina, VERNIER, Marie France (2017). «Le management de la légitimité dans le discours : analyse du discours des enseignes spécialisées dans la distribution de produits biologiques». Décisions Marketing, 86, 67-89. URL/DOI : [+]
BERNEMAN, Corinne, LANOIE, Paul, PLOUFFE, Sylvain, VERNIER, Marie France (2013). «Démystifier la mise en place de l'écoconception». Gestion : Revue Internationale de gestion, 38, 3, 75-83.

Forthcoming

VERNIER, Marie-France, ARFAOUI, Nabila, CHALLITA, Sandra, LANOIE, Paul, PLOUFFE, Sylvain (forthcoming). «Factors Influencing Profitability in Eco-design: Lessons from European and Canadian Firms». Journal of Innovation Economics and Management.

Communications (conferences, seminars, study days)

VERNIER, Marie-France (2022). Eco-Conception et Economie Circulaire. Club Innovation Curiosity - Soirée Innovation à impact, organisé par Spark Lab, October 2022. URL/DOI : [+]
VERNIER, Marie-France (2022). Episode 2 - Faire son étude de marché. Webinaire GreentoMarket avec Samuel MAYER, directeur du Pôle Eco-conception et Florence Roulenq, dirigeante de Marketing & Cies, Pôle Eco-conception, October 2022. URL/DOI : [+]
VERNIER, Marie-France (2022). «L'éco-conception : une démarche contribuant à la soutenabilité ?». XIe Congrès de l'Association Française d'Économie Politique, AFEP (Association Française d'Economie Politique), June 2022, Amiens, France.
VERNIER, Marie-France, DE ROUFFIGNAC, Aliénor, BOUTERFA, Thiziri, GAST, Stéphanie, LAPERCHE, Blandine (2022). «Eco-conception des filières de production biosourcées : méthodologie et enjeux». Printemps de l'Innovation "Innovations & Filières de Production Biosourcées", IUT de Béthune – Université d'Artois, March 2022, Béthune, France.
VERNIER, Marie France (2020). «Innovation and eco-design: lessons from the failed launch of a vacuum cleaner». Colloque JB Say : Imaginer le futur à partir du passé, Laboratoire S2HEP, Chaire Saint GOBAIN - INSA Lyon - « Ingénieurs Ingénieux », Société Internationale Jean-Baptiste Say, Réseau de Recherche sur l'Innovation, December 2020, Lyon, France.
VERNIER, Marie France, ARFAOUI, Nabila, LE BAS, Christian, VO, Linh Chi (2020). «Circular bio-economy, institutional and social dimensions: The case of five experiences of methanization in France». Colloque PSDR Transitions pour le Développement des Territoires - Symposium PSDR4, October 2020, Angers, France.
VO, Linh Chi, LE BAS, Christian, VERNIER, Marie France, ARFAOUI, Nabila (2020). «Circular bio-economy, institutional and social dimensions: The case of five experiences of methanization in France». Spring of Innovation 2020: International Conference Innovation and Circular Economy, March 2020, Saint Jacques de Compostelle, Spain.
ARFAOUI, Nabila, VERNIER, Marie France, CHALLITA, Sandra, LANOIE, Paul, PLOUFFE, Sylvain (2019). «Drivers of financial profitability of ecodesign : a comparative analysis between Europe and Canada». 14ème congrès du RIODD, Excelia Business School, Laboratoire de recherche CEREGE (EA 1722), Laboratoire de recherche LIENSS (UMR 7266), EIGSI (école d'ingénieurs), September 2019, La Rochelle, France.
VERNIER, Marie France (2019). «Innovation and ecodesign: lessons from the failed launch of a vacuum cleaner». 10th international Research Meeting in Business and Management, IPAG, 8 au 10 juillet, July 2019, Nice, France.
VERNIER, Marie France, DHAOUADI, Inès, PRINCE AGBODJAN, Didier (2018). «La juridicisation de la RSE comme facteur d'innovation managériale : le cas de la Loi sur le devoir de vigilance des entreprises multinationales». XXVIIe conférence de l'AIMS-ST AIMS 13 : Trajectoires d'innovation, Montpellier Business School, June 2018, Montpellier, France.
VERNIER, Marie France, DHAOUADI, Inès, PRINCE AGBODJAN, Didier (2017). «La co-production contrastée des normes RSE : le cas de la Loi sur le devoir de vigilance des entreprises multinationale». 12ème congrès annuel du RIODD, « Quelles responsabilités pour les entreprises ? » Université Paris Dauphine, October 2017, Paris, France.
VERNIER, Marie France, ZAIDI CHTOUROU, Sabrina (2016). «Analyse de la perception des consommateurs face aux stratégies de légitimation dans les discours des enseignes spécialisées bio : proposition d'une typologie». 11ème congrès du RIODD « Energie, Environnement et Mutations sociales » Institut Henri Fayol de l'École des Mines de St-Étienne, July 2016, Saint-Etienne, France.
VERNIER, Marie France (2015). «Grenelle de l'environnement et innovation. Le cas des déchets dans les PME françaises». Vème Congrès de l'AFEP : « L'économie politique de l'entreprise : nouveaux enjeux, nouvelles perspectives » ESDES UCLy, Sciences Po Lyon, July 2015, Lyon, France.
VERNIER, Marie France (2015). «Symposium 01. European retailers strategies on sustainable development». Symposium EURAM "European retailers strategies faced to sustainable development", Université de Kozminski, June 2015, Varsovie, Poland.
VERNIER, Marie France (2014). «Pratiques d'écoconception en France, quelles perspectives ? Étude du cas Rowenta». 9ème congrès du RIODD : « Environnement et travail quelles relations ? » Pôle Juridique et Judiciaire de l'Université de Bordeaux, October 2014, Bordeaux, France.
VERNIER, Marie France, ZAIDI CHTOUROU, Sabrina (2014). «Le management de la légitimité dans le discours : analyse du discours des enseignes spécialisées dans la distribution de produits biologiques». 9ème congrès du RIODD : « Environnement et travail quelles relations ? » Pôle Juridique et Judiciaire de l'Université de Bordeaux, October 2014, Bordeaux, France.
VERNIER, Marie France, HANED, Naciba, LANOIE, Paul, PLOUFFE, Sylvain (2014). «La profitabilité de l'écoconception». 3ème colloque Écoconception, Pole Eco – Conception, Cité du Design, April 2014, Saint-Etienne, France.
VERNIER, Marie France (2013). «Panorama des études internationales sur les actions des entreprises pour réduire les déchets». 5e colloque : « Prévention, Déchets et Territoires » ADEME, Maison de la Chimie, June 2013, Paris, France.
VERNIER, Marie France, ZAIDI CHTOUROU, Sabrina (2013). «Entre légitimité historique et construite». 9ème congrès de l'AFM, Université de La Rochelle et le Group Sup de Co La Rochelle, May 2013, La Rochelle, France.

Popularization & dissemination of research

(2021) «L'Economie circulaire en quelques mots». Vidéo réalisée dans le cadre de la Nuit de l'innovation : les grands défis de l'économie circulaire, December 2021, Lyon, France.
VERNIER, Marie-France (2021). «Sortir de la crise COVID : une opportunité de changement ?». Le Blog de l'ESDES. URL/DOI :
VERNIER, Marie-France (2021). «La relance verte ou le lancement d'une économie verte, il faut choisir». Innovations, Le blog de Le Réseau de Recherche sur l'Innovation (Alternatives Economiques). URL/DOI :
LE BAS, Christian, BOURDIN, Sébastien, ARFAOUI, Nabila, VERNIER, Marie-France, VO, Linh Chi (2020). «Les entreprises innovantes, plus engagées dans l'économie circulaire». The Conversation. URL/DOI :
Scientific collaborations

Participation in subsidized research contracts / projects

Member : 2021 - 2023, PrIORRA - Innovative Practices of Responsible Organizations in Rhône-Alpes, FEDER - 17856, led by Lyon Catholic University

Participation in other research projects

2021 - 2024, Member : Jean Mane Project - Circular economy, microeconomic determinants and national specificities: a European study, MANE, led by Lyon Catholic University and ESDES
Since 2020, Member : Chaire Jean Mane, xx
Academic background

1999 PhD in Economics, Essor des recettes en devises et intervention de l'Etat. Approches dans le cas égyptien, Université Paris 13, France
1991 Diploma of Advanced Studies, Economics, Université Paris 13, France

Educational responsibilities and professional experiences

Since 2020 Head of Program, Digital Law and Management, ESDES Lyon Business School, ESDES Lyon Business School, Lyon Catholic University, France
2019 - 2021 Director of studies, ESDES Lyon Business School, Lyon Catholic University, France
2016 - 2019 Head of Studies, ESDES Lyon Business School, Lyon Catholic University, France
Since 2003 Teacher, Lyon Catholic University, France

Languages

English - Able to teach
Spanish
Arabic