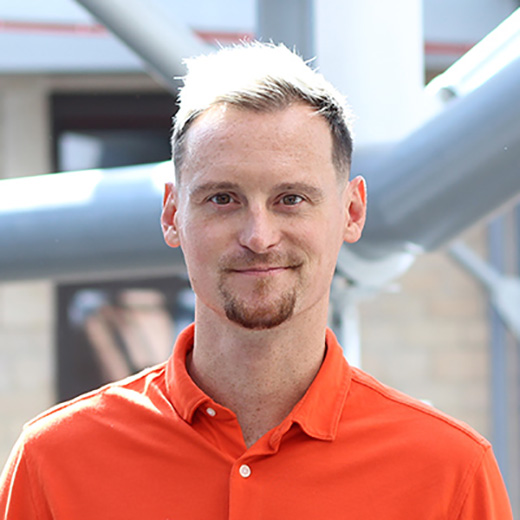 Christopher Melin
Associate Professor
8. Sustainable Business and Organisations
cmelin@univ-catholyon.fr
Campus Lyon - Saint Paul
10 Place des archives 69002 Lyon
Function
Member of Institute of Sustainable Business and Organizations, CONFLUENCE : Sciences and Humanities Research Unit - EA 1598 Lyon Catholic University
Further information
Field (CNU): 06. Management science
Research areas
Global Factory
Cooperative Action-Research
Manager Position
Sustainable Business and Organizations
Teaching areas
Strategic Management
Consulting Area
Organizational Behavior
Presentation
Christopher has been a teacher-researcher in Strategy and International Management at ESDES Lyon Business School since 2014, attached to the Confluences, Sciences and Humanities Research Unit of the Catholic University of Lyon. His research work focuses on the management and structures of multinational firms as well as on research-action type research approaches.
He is also the coordinator of an ERDF project in the Rhône-Alpes region entitled PrIORRA: Innovative Practices of Responsible Organizations in the Rhones-Alpes region.
Chapters

Book chapters

MELIN, Christopher, DUNCAN, Anne-Laure, FAGBOHOUN, Sandra, GAO, Huiyi, PON, Kévin (2015). «Les chaînes de valeur mondiales reconsidérées». In : CHASSAGNON Virgile (dir.), Chassagnon, Virgile (dir.) Vers un modèle de gouvernement durable de l'entreprise capitaliste : l'unité dans la pluralité au service de la société. Lyon : ESDES Publication, 6, 83-94.
MELIN, Christopher, TRIKI, Dora (2014). «Internationalisation et conquête des marchés émergents». In : Ulrike Mayrhofer (dir.), Ulrike Mayrhofer (dir.), Les Grands Auteurs en Management International. EMS (Edition Management et Société), 89-106. URL/DOI : [+]

Articles

Articles in peer-reviewed journals

Forthcoming

MELIN, Christopher (forthcoming). «La recherche-action coopérative, une démarche adaptée pour la résolution d'un problème complexe en management international». Management International (MI).

Case studies

MELIN, Christopher, ARZUMANYAN, Lusine, AVETISYAN, Emma (2020). «R0010 - SANOFI, acteur de l'innovation sociale ?». Centrale de cas et de médias pédagogiques (CCMP).

Communications (conferences, seminars, study days)

MELIN, Christopher (2018). «La recherche-Action coopérative, une méthodologie adaptée dans le champ du management international», ESCP Europe, FNEGE, Université de Versailles. 8 Conférence ATLAS-AFMI, "Continuité et ruptures en management international", 21-23 mai, May 2018, Paris, France.
MELIN, Christopher (2017). «L'observation participante au sein des recherches-action coopératives », Université de Nantes, Audencia Business School. Atelier méthodologique de l'AIMS, 23-24 novembre, November 2017, Nantes, France.
MELIN, Christopher, ATTIA, Marianne (2016). «Les enjeux de l'expatriation au féminin», IAE de Nice et EDHEC Business School, Sophia-Antipolis. 6ème conférence annuelle Atlas-AFMI, "Internationalisation durable et instabilités politiques", 6-8 juin, June 2016, Nice, France.
MELIN, Christopher (2015). «Network firm Approach on the Global Factory», Pontifical Catholic University. 41st European International Business Academy (EIBA) Conference, 1-3 décembre, December 2015, Rio de Janeiro, Brazil.
MELIN, Christopher (2015). «Le design organisationnel de l'usine mondiale», CFVG de Hanoï. 5ème conférence annuelle ATLAS-AFMI, "Transitions et management international", 12-14 mai, May 2015, Hanoi, Vietnam.

Popularization & dissemination of research

(2019) «Recherche et entreprises». Chronique "L'éco expliquée par l'ESDES", 31 janvier, January 2019, Radio RCF, France.
Scientific collaborations

Participation in subsidized research contracts / projects

Project coordinator : 2021 - 2023, PrIORRA - Innovative Practices of Responsible Organizations in Rhône-Alpes, FEDER - 17856, led by Lyon Catholic University
Academic background

2014 PhD, Business administration, Finance, Université Jean Moulin Lyon 3, France
2009 Master, Business administration, Strategic Management, Université Jean Moulin Lyon 3, France

Prizes & distinctions

Since 2016 Prix de thèse 2014 en « Économie-gestion », classement : 1er prix, Université Jean Moulin Lyon 3, France
2009 - 2012 Bourse doctorale, Université Jean Moulin Lyon 3, France

Educational responsibilities and professional experiences

2018 - 2020 President of a sports association - 500 members, France
2015 - 2017 Responsable Master of Business Devlopment, Lyon Catholic University, France

Teachings

2017 - 2019 International Business Strategy, ESDES, France
Since 2017 Innovation and change management, ESDES, France
Since 2017 International Business Strategy, ESDES, France
Since 2017 The tools of the responsible manager, ESDES, France
2016 - 2018 Organizational Behavior, ESDES, France
Since 2015 Consulting Practices, ESDES, France
Since 2014 Management and Organizational Behavior, ESDES, France

Languages

French - Able to teach
English - Able to teach